News & Media
Unified Payments Ranks No. 1 on Inc. Magazine's List of America's Fastest-Growing Private Companies
Inc. Magazine Unveils Its Annual Exclusive List of America's Fastest-Growing Private Companies—the Inc.500|5000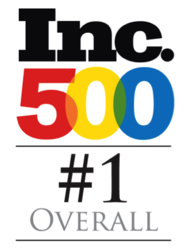 Inc. 500 is a registered trademark of Mansueto Ventures LLC.

This tribute would not have been possible without the hard work and dedication of our talented team at Unified Payments, our business partners and our merchants.

Miami, FL (PRWEB) August 21, 2012
Inc. magazine today ranked Unified Payments as the top company of 2012 having achieved three years sales growth of 23,646%. The Inc. 500 list presents a comprehensive insight into the most important segment of the economy—America's independent entrepreneurs. Companies such as Microsoft, Zappos, Intuit, Jamba Juice, Zipcar, Clif Bar, Vizio, Oracle, and many other well-known names gained early exposure as members of the Inc. 500|5000.
"Just to be on the Inc. 500 list is an incredible honor," said Oleg Firer, Executive Chairman of Unified Payments. "To be recognized as the fastest growing private company in America is overwhelming. This tribute would not have been possible without the hard work and dedication of our talented team at Unified Payments, our business partners and our merchants. We are sincerely grateful to all of these parties for their trust and support. The momentum Unified Payments has gained in our industry coupled with this very gracious acknowledgement from Inc. is an entrepreneur's dream come true."
The 2012 Inc. 500, unveiled in the September issue of Inc. (available on newsstands August 21 to November 15 and on Inc.com), is the most competitive crop in the list's history. To make the cut, companies had to have achieved a staggering minimum of 770% in sales growth. The Inc. 500's aggregate revenue is $15.7 billion, with a median three-year growth of 1,431 percent. The companies on this year's Inc. 500 employ more than 48,000 people and generated over 40,000 jobs in the past three years. "Now, more than ever, we depend on Inc. 500/5000 companies to spur innovation, provide jobs, and drive the economy forward. Growth companies, not large corporations, are where the action is," says Inc. magazine Editor Eric Schurenberg.
Unified Payments anticipated the rise of consumer demand for the convenience of cashless transactions. By executing a series of strategic acquisitions and implementing creative sales plans it was able to exponentially grow its revenue base. At the same time it secured a leadership position in the industry by pursuing technological innovation including offering point of sale terminals that have state of the art technology -- ultimately simplifying operations for merchants and lowering processing fees.
Unified Payments recognized an opportunity to allow merchants to differentiate themselves from their retail competitors by introducing cause-based initiatives into payment processing. Operating under the Process Pink, UnifiedCares and Green Payments brands, merchants can participate in various fundraising affinity programs. For example, Unified Payments subsidiary Process Pink is a Platinum partner with the National Breast Cancer Foundation (NBCF), and raises over a quarter of a million dollars each year for NBCF that funds free breast cancer diagnostic screening for women in need. This charitable contribution doesn't cost the consumer or merchant anything - it is derived from Unified Payments donating a portion of the processing fee it receives from participating merchants.
About Inc.
Founded in 1979 and acquired in 2005 by Mansueto Ventures, Inc. is the only major brand dedicated exclusively to owners and managers of growing private companies, with the aim to deliver real solutions for today's innovative company builders. Total monthly audience reach for the brand has grown significantly from 2,000,000 in 2010 to over 6,000,000 today. For more information, visit http://www.inc.com.
About Unified Payments:
Unified Payments, LLC ("Unified Payments"), has been recognized by Inc. Magazine as fastest growing private company in America for 2012 and is a leading socially responsible provider of payment processing services to small, medium, and large-size merchants across the United States. Unified Payments provides comprehensive turnkey, payment-processing solutions to merchants across the United States. By utilizing the products and services offered by Unified Payments, merchants are able to accept both traditional card present and non-card present payments, as well as other forms of cashless payments such as prepaid cards, gift cards and other forms of non-cash payments.